Last week was a bit like living in the Twilight Zone. After months of being told to wait, we finally got a glimmer of hope from the Governor. He went on T.V. with Dr. Mandy Cohen and told North Carolinians that virus numbers had stabilized. The pair gave the green light to open all elementary schools in North Carolina. They said that the science supported the decision.
But the Cumberland County Board of Education answered the Governor with a 6-3 "NO" vote and through a spokesperson said they would not revisit their decision. Cumberland County Schools would remain closed through 2020.
Several days later, I'm left wondering how this happened. It's baffling. I thought we were following the science? Did the dimmer switch break?
I've developed a few political theories in an effort to make sense of it all, but unlike the Cumberland County School Board, I'm not ready to have "virtual" science for the rest of 2020. So what follows is a mix of politics and science in an attempt to shine some light on this debacle.
Racial Divide?
The Fayetteville Observer, in an editorial that half-way supported the board's decision, had this to say:
Like elsewhere, the virus has had a disproportionate impact on African-Americans. Based on cases where the race is known, 61 percent of people who have died from COVID-19 in our county have been Black, in a county where Blacks make up 39 percent of the population.

These are among considerations the school board had to take into account in a school system which has a majority-minority student body.

https://www.fayobserver.com/story/opinion/editorials/2020/09/19/covid-19-forcing-these-tough-school-decisions-nc/3491878001/
I expected a bit more from our paper. This is the one time that race should have been left out of the conversation. A virus doesn't care about your skin tone. However, you are more likely to catch one if you're poor and live in a crowded home with working-class parents. This is a socio-economic problem, plain and simple.
Maybe our paper was only reflecting the "true spirit" of Fayetteville's politics, where race always simmers under the surface, waiting for a chance to boil over. Here's a relevant flashback from four years ago:
The Cumberland County Board of Education begins the new year with new leadership, and not everyone is happy about it. Rather than follow tradition, school board members voted 5-4 to elect Greg West as chairman, rather than current vice chairperson Carrie Sutton.

"I'm just shocked," Sutton said. "I've worked on this board for eight years, and never have I been in a situation like this…this is so racial."

"All I can say is, you are wrong," West said, responding to Sutton's claims of racially-motivated voting. Board members Peggy Hall, Rudy Tatum, Donna Vann and Susan Williams supported West, who voted for himself. Alicia Chisholm, Porcha McMillan and Judy Musgrave supported Sutton, who voted for herself. West served as chairman most recently in 2014. During the public comments portion of the meeting about a third of the people in the room asked the board to choose Sutton as chairwoman.

https://www.upandcomingweekly.com/local-news-briefs/3639-school-board-votes-along-racial-lines
Unsurprisingly, the School Board's recent vote fell along nearly identical lines. Did this vote become a racial issue? Was it a personal grudge against Greg West (who supports re-opening)? It's hard to tell.
The point is that racial tension and mistrust are poison to the process of making a reasoned decision. The Nation, City, and School Board are full of both right now.
Generational Divide?
Since the beginning of the pandemic, we've seen a generational divide in how we treat the virus.
This makes sense. If you're old, you're far more likely to die of Covid. You're also less likely to empathize with families that are going through the hell that is "virtual" school because no such thing existed when you were raising your own children.
The local science regarding age is worth mentioning here:
75 people have died with Covid in Cumberland County so far. 80% of the deaths have been people over the age of 65.
No one under the age of 25 has died with Covid in Cumberland County.
The majority of the members of our school board are "getting up there" in age. It may be that the six school board members who voted "no" are worried that in-person school will spread Covid in Cumberland County and they have personal fears of Covid due to their age or health history.
If these fears exist, they are irrational. Dozens of counties have already gone back to school. I argued in a post several weeks ago that we would know within "2-14 days" if in-person school increased Covid transmission because we would see a spike in these counties:
https://crosscreekdivide.com/2020/08/18/2-14-days/
We saw no spike. In fact, Dr. Mandy Cohen went on T.V. last week and said there has been "no increase in community spread" in counties with in-person education. But in politics, fear beats reason, every time. I have a hunch the 6-3 vote would have been different if we had a younger school board.
Teachers "Union" Calling the Shots?
The North Carolina Association of Educators (NCAE) is a political organization that advocates for teachers in North Carolina. The group organized the rallies in Raleigh promoting higher teacher pay that made national news. Remember all those red shirts?
The NCAE is against opening schools:
At an emergency town hall meeting Thursday night, NCAE leaders told the 1,000 virtual attendees that Cooper's decision endangers students and school employees. Bryan Proffitt, NCAE's vice president, said they're now being "forced to fight against our principals, our school boards and our school district administrators" to keep schools from adopting Plan A.

"I would be lying to you if I didn't say that the strategy has to be that we have to fight locally," Proffitt said. "You are going to have to push your school board. The decision is now in the hands of school boards. It is not in the governor's hands anymore, he relinquished that today."

"It is in the hands of school boards so we are going to have to push our school boards for the safest possible conditions, and if that means you've got seven people on your school board, you've got to get four people to vote the way you want."

https://greensboro.com/news/education/teachers-group-to-fight-reopening-n-c-elementary-schools-ncae-says-move-unsafe/article_0c731938-f9d5-11ea-a611-5fd08c182edc.html
Tamika Kelly is the current president of the NCAE. She has Fayetteville roots, having taught at Westover and Morganton Road Elementary.
Cumberland County School Board Member Joseph Sorce is Tamika Kelly's stepfather.
On Kelly's campaign page, there is a message of support from Sorce.
https://tamikaandbryanforncae.com/about-tamika/
Unsurprisingly, Sorce has aligned his position with his stepdaughter and the NCAE, voting to keep schools virtual for the rest of the year. Other school board members have used "teacher safety" as their primary motivation for voting against opening, now that Cooper's "science" supports having elementary schools open.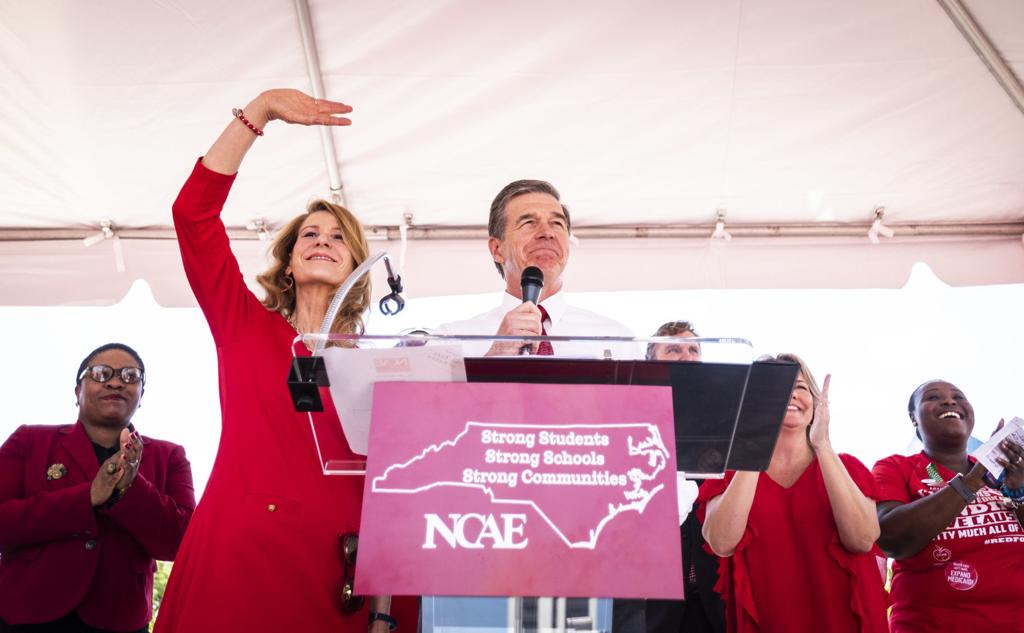 In Charlotte, a lawsuit was recently filed to open schools. The NCAE was named as a Defendant. The suit accuses the NCAE of being an illegal public union and conspiring with school board members to advance its agenda of keeping schools closed. Here's a link to the Complaint, if you're interested in reading it:
https://www.fox46.com/wp-content/uploads/sites/109/2020/09/Complaint-211.pdf
The NCAE wants this to be a partisan fight. Notice how the NCAE VP simply brushed off Governor Cooper by arguing that he "relinquished" control of the decision. This comes after Tamika Kelly publicly admonished Trump for "not following the science" and wanting to open schools a few weeks before (see the video above).
It's hard to avoid the fact that we have a powerful special interest group representing teachers in North Carolina that clearly has the ear of local school boards. They won the battle in Cumberland County.
Hate Trumps All?
I'd be remised not to mention the orange elephant in the room. Partisanship and hatred for Donald Trump is a primary motivation for many who oppose open schools. It just is. It's in Trump's interest to re-open the country as fast as possible, including schools.
I have a hard time with this one, because I think Donald Trump is a horrible President, but I'm in favor of my two children going back to the classroom. Show me some science that says my kids aren't safe. I'll change my mind and publish a retraction.
Wrap-Up
It's this writer's opinion that members of the Cumberland County Board of Education are "caught up" in a fight that is bigger than the decision to send kids back to school in Cumberland County. It's a political fight being waged on multiple fronts that has lasted all of 2020.
In a tumultuous election year, it's easier to get caught up in national issues of race, or political party, or Donald Trump. It's harder to look at the facts and the data in your little county and make a reasoned decision.
The right thing is simple: Put your political agenda aside. Put our children first.